Where
Coed-y-Wenallt
(Brecon Beacons and South Wales)
Date
20 November 2005
Duration
2 hours 45 minutes
Distance
9.3 miles (~15 km)
Weather
Sunny, and barely above freezing
Trail conditions
Frosty and muddy ground, with plenty of fallen leaves
Trip report
Description by Chris Poole
Hidden treasure
"Fancy a quickie before you go back to Norway? Have to make it local though - I've only got a couple of hours" [Ed. that sounded really dodgy - don't blame me, OK :P]
Funny how great things happen when you least expect them.
Having lived in Cardiff for a decade and as a 'keen' cyclist it's disgraceful that I hadn't discovered this gem of a ride sooner.

Lovely midwinter day, bright and crisp. If you can navigate the complex pathways that criss-cross the Coryton Interchange join the forestry north of Tongwynlais from Greenmeadow Drive. Go in an Easterly direction gently uphill until you get to the edge of the forestry. Then switch-back Westerly, deeper into the woods. A couple of testing slopes should get the lactic acid moving.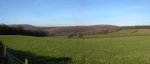 Take it easy across the fields to Rhiwbina Farm and get your breath back whilst enjoying a Brecon-esque view of Bwlch-y-cwm and the Cynon Valley. Down to the road. Coed-y-wenallt is right in front of you but be patient and take the long way round. Left onto the road and climb gently until the Y-junction on the brow. Right, then take the footpath immediately right. Downhill as fast as you dare (it's technical, treacherous and terrific), then bottom out on the nicely surfaced path. Turn right.


Cross the stream to your left at the first opportunity. If your feeling muddy and are riding a GT LTS 2000 (TWJ), stop and wash your chain - else it will suck on the next bit, literally and metaphorically. Go straight up, and up. At the clearing turn left and keep it upwards. Now it's getting silly, so get off and push to the brow. "Can we go down again?" Yes but let's do a couple of loops first. Right, gently downhill at first then, YAHOO! This rocks. The trees thin out and indecent haste will have you jumping logs and gullies to add to the fun.

But you want the really BIG downhill don't you. OK, head up to regain the height you've lost, but not wasted. Cycle alongside the road atop the woods to the car park then back to the original peak.

Wait for the ramblers and pony trekkers to disperse, then hit the gas. Not that you'll need much, gravity does most of work. Just hold onto the bike and your nerve as you drift it left to the clearing then right to the stream. Oh yeah! Now that's what I'm talkin' 'bout Mr Rubidoo (ER, series 5).

Easy track along the bottom edge of the trees to the viper-infested field (must have been tucked up in bed) and alongside the M4 to Tongwynlais again. Don't let your downhill euphoria distract you from a fantastic panorama view of Cardiff (and don't worry about the brown haze, no bugger else is!) [Ed. freaky picture courtesy of Chris' camera-phone].
You should easily have change from 3 hours. Why don't I live in London? Why do you live in London? Cardiff - I'm lovin' it!