Where
Llanelly Hill
(Brecon Beacons and South Wales)
Date
22 March 2008
Duration
2 hours
Distance
2.5 miles (~4 km)
Weather
Cloudy with wind and occasional snow
Trail conditions
Mostly dry tarmac
Trip report
Description by Mark 'Tarquin' Wilton-Jones
A short bike ride for smaller humans. The route follows part of the relatively new Route 46.


The route starts by the tunnels at Lower Gellifelen on Llanelly Hill, and instead of going through the tunnels (one of which is open all the way through), follows the new tarmac route around the long buttress to the other end of the tunnels. A short section of grassy track leads to Llanelly Quarry.


Back on the tarmac, which is as new as the cycle route (it was not there when I used to play here as a child), and then over a tall viaduct, which has some alabaster stal underneath it.


Staying on the railway to the next set of tunnels (blocked at both ends), then around the side to reach their other end.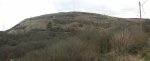 Then a view of the extensive quarries on Gilwern Hill. Back on the railway line, which now crosses over a larger viaduct.


The quarries are full of old industrial heritage, particularly lime kilns, time to stop and have lunch.

The builders were quite helpful, and put a staircase between the lime kilns, leading up the the cave filled quarries above. Great place to waste some time (how else can it take 2 hours to do such a short distance?).
Time to turn around and head back to the car.